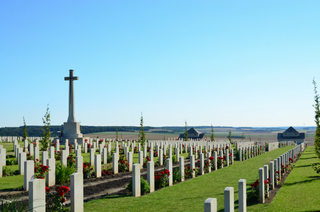 Great War graves at Australian War Memorial,
Villers-Bretonneux, France
Today we remember a railway employee who volunteered for military service in War and lost his life serving his country:
Ryder, Arthur Henry
Position:
Relief Officer
Employer:
Western Australian Government Railways & Tramways
Branch:
Traffic
Military Unit:
28th Battalion.
Date of death:
1 June 1918
The Great War 1914-1918
WA railway employees serving in Australia's military forces
Before the War started, the WA Government Railways and Tramways employed a total of 7993 staff at 30 June 1914. Railwaymen responded as willingly as any other citizens, and over the next four years a total of 2184 men were given leave to enlist (not all who were willing, could be spared, as the railways needed to keep operating).
Unfortunately 346 of these men lost their lives while serving, or as a result of wounds incurred while fighting.
An "Honour Roll" of those killed was compiled by the railway authorities and published in the 1919 annual report. This listing has been digitised by Rail Heritage WA researchers and may be viewed here.

At that period, the railway between Midland and Walkaway (near Geraldton) was privately owned by the Midland Railway Company of Western Australia Limited, and from the preservation of an old honour board we have been able to identify employees who served and fell in this War. Information on the men from both government and private railways who lost their lives in the Great War is being progressively assembled by Rail Heritage WA researchers and you can search for names here.
Further information on individual railwaymen who served in the war may be available from railway personnel records. Information on their military records is normally available from the Australian War memorial: https://www.awm.gov.au/advanced-search/people
Second World War 1939-1945
Railway employees serving in Australia's military forces
Once again, many railway employees enlisted with military forces.
No complete honour roll of railway employees who may have lost their life in this war has been located, however we have assembled a list from memorials, references in journals, and personal recollections. Rail Heritage WA researchers would always be interested to receive additional information.
By this time, community views on the roles which women could play had changed considerably and both men and women enlisted to serve their county.
However, women were still not allowed in combat roles and no cases of a female railway employee losing her life in war service are known.
WA railways' contribution
Those who remained, and the rail systems themselves, played a greater role in transport during the 1939-45 war, with the military's needs met by numerous special trains and in some cases by replacing or delaying ordinary traffic.
Australian military authorities prepared a "War Railway Manual" to assist military officers who might take control of railways in time of attack.
Railway workshops, such as that at Midland Junction, were partly diverted to military uses including the manufacture of large numbers of shells.
The role of WA's railways in the Second World War is documented in the book "Troops, Trades and Trains" by Philippa Rogers, available in libraries and from the Rail Heritage WA bookshop or online: online here
Post 1945 conflicts
It is believed that WA railway employees have again joined military forces during conflicts in Vietnam and other Asian operations.
Further information
Rail Heritage WA would always be grateful to receive information to add to or correct details recorded here.
Enter a name to conduct a Search: