What's New
Rail Heritage WA and its members and volunteers are always working to improve our knowledge, our collection, our museums, and our services. To keep up with all the latest news, see our Facebook pages:
For news, discussions and photos concerning our society, the Railway Museum at Bassendean and WA railway history: Rail Heritage WA
For events and news from the South West Rail and Heritage Centre at Boyanup: South West Rail and Heritage Centre
---
With the most recent addition of scanned images the gallery currently contains more than 25,880 images. You can access the gallery
here
.
---
Award Winner
Rail Heritage WA was announced as the winner of Western Australian Heritage Awards for 'Contribution by a Community-Based Organisation'. Thank you to all at Bassendean, Boyanup and anywhere else who helped us achieve such an award.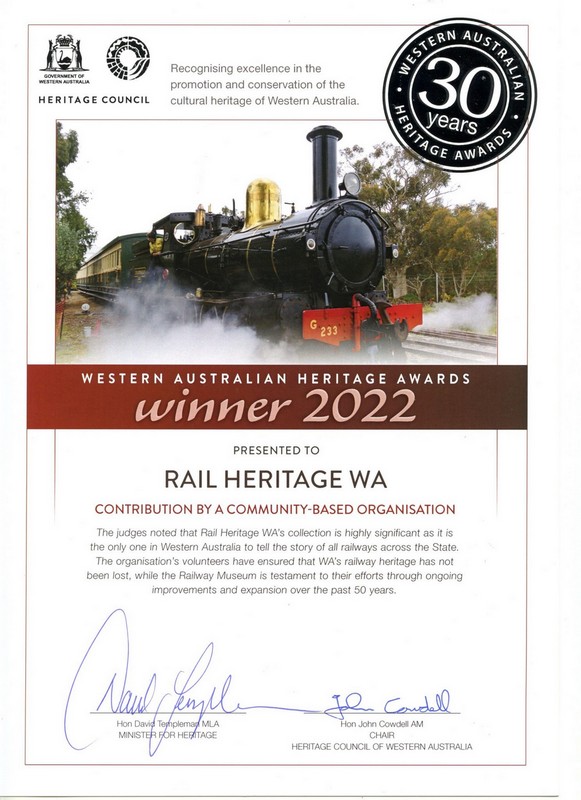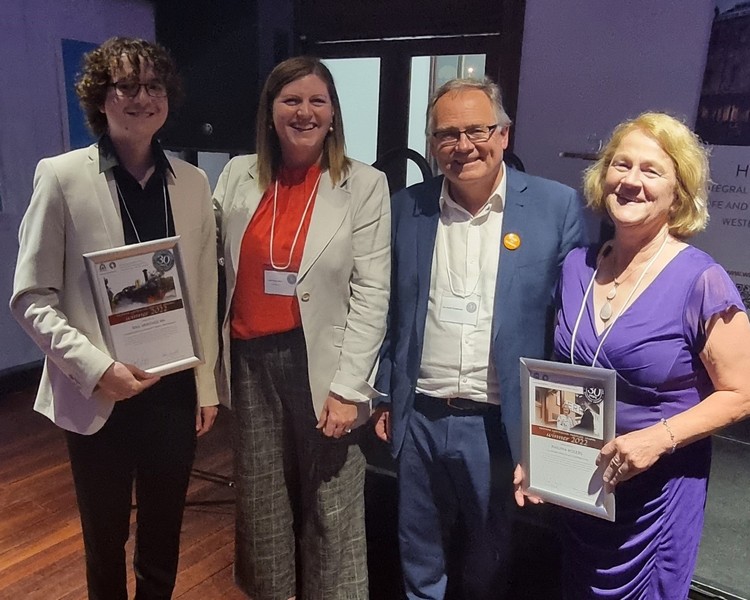 From left to right: Trent Stanley (Vice-President), Hon Jodie Hanns MLA, Hon David Templeman Minister for Heritage and Culture & Arts, Philippa Rogers (President) (Photo: State Heritage Office)
---
GM 1 has arrived in Western Australia!
To recap the story, the Australian Government asked for expressions of interest from groups interested in preserving the historic GM 1. Their decision was to gift it to Rail Heritage WA in 'as is, where is' condition. 'As is' meant a loco with no wheel life and in rather ordinary condition overall. 'Where is' meant in Dry Creek, South Australia.
Rail Heritage WA requested GM 1 due to its significant links to Western Australia, having travelled much of its 8 million kms across the Nullarbor between Kalgoorlie and Port Pirie. The building of the Trans-Australian Railway (TAR) was the 'carrot' that enticed WA to join the Federation back in 1901. South Australia already had a GM preserved as well as a steam loco from the TAR, but WA had no such locomotive.
The first step was to pay for new wheels and minor works for GM 1 - which was done in SA and enabled it to be considered fit to move by rail. A long story but it ended up that it was impossible to move GM 1 by rail across the Nullarbor to Perth. After years of attempting to resolve this the decision was taken to transport it by road - and then COVID caused chaos and our volunteers couldn't get to NSW.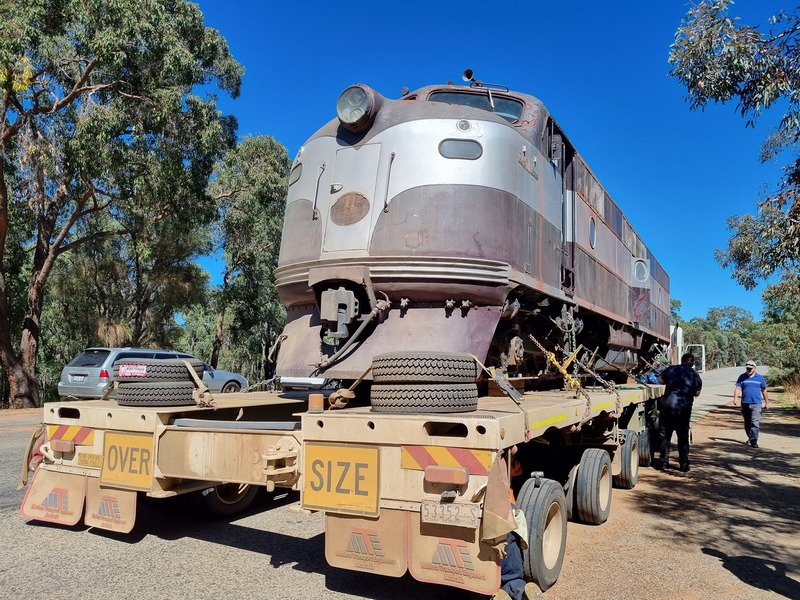 But with the assistance of Lithgow Railway Workshops (thanks to Tim Elderton and his team) to set up the move, access and cranes it finally happened - just in time for an extra fuel levy!
Our thanks to Bernie Baker and others who have worked to protect GM 1 during its time in NSW, we really appreciate your consideration. Also, thanks to UGL for their assistance to offload it in WA.
We have had to spend our restoration money (and more) to get it to WA but are so pleased that it will finally get here and end up with other rollingstock from the TAR at the Railway Museum in Bassendean.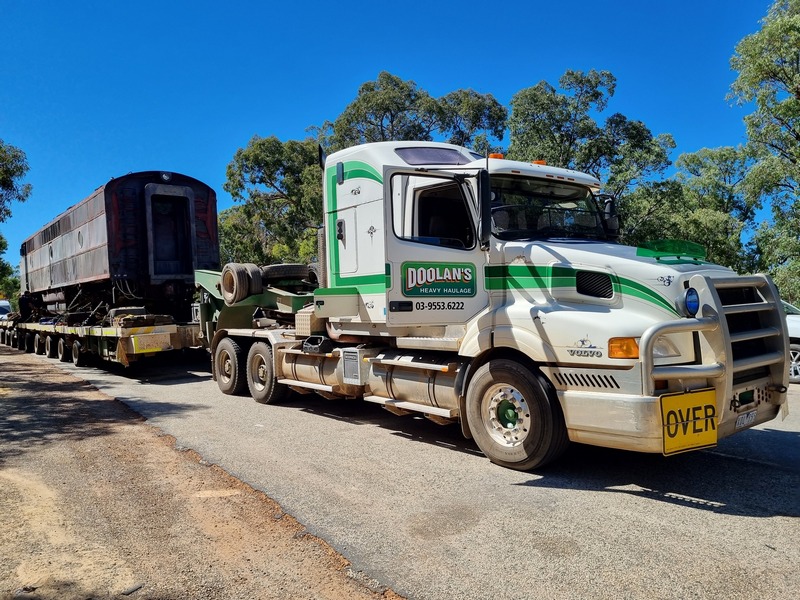 ---
Leschenault Lady - back in steam for WA Rail 150
The return to steam of the 1898-built 'Leschenault Lady' on Sunday 22 August 2021 at the South-West Rail & Heritage Centre in Boyanup was a great milestone within a huge celebration event.
Well done to all involved in restoring this 1898-built steam locomotive to operational condition and who assisted in this event or others over the weekend!
We thank the WA Government for their $20,000 contribution towards the restoration as part of the election commitment grant program.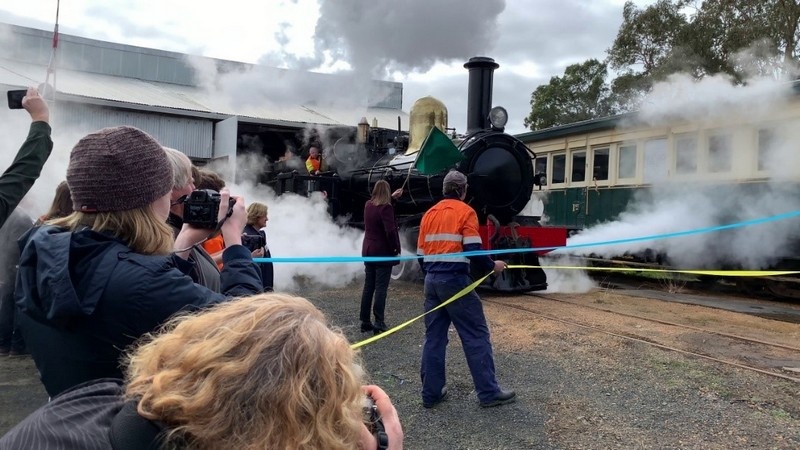 Jodie Hanns MLA waves the green flag as Leschenault Lady passes through the streamers (T Stanley)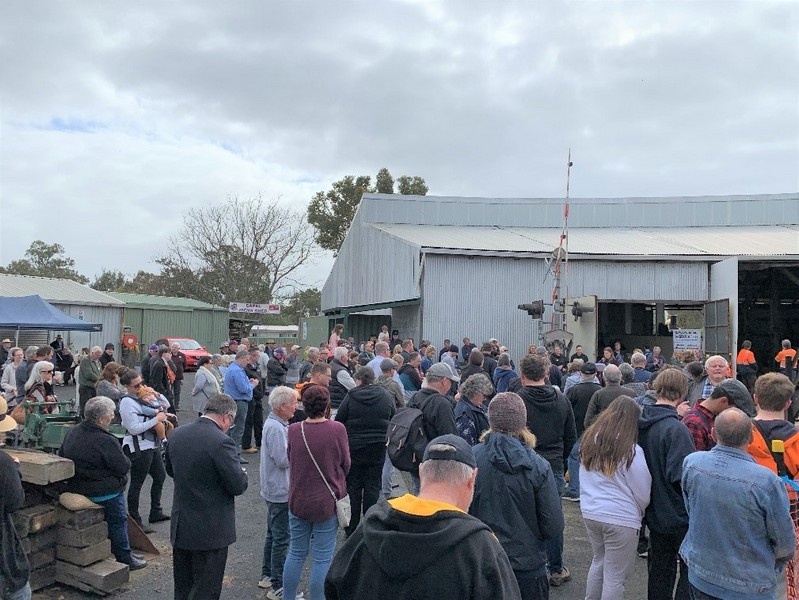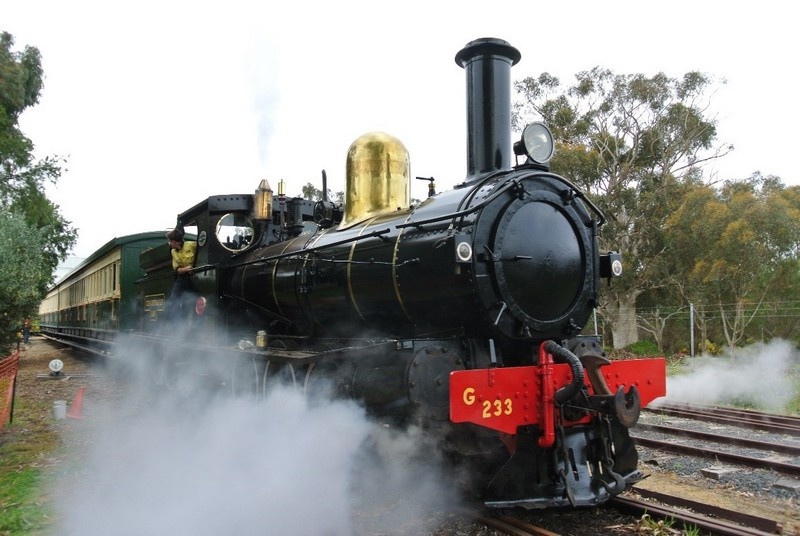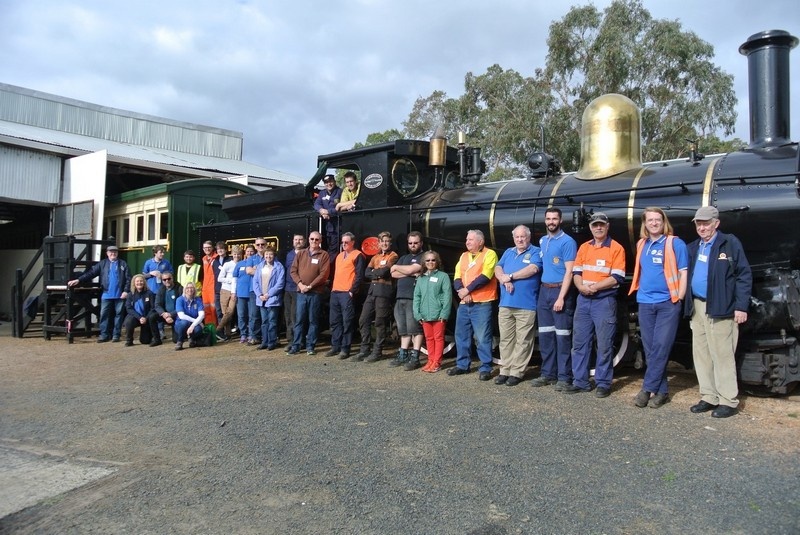 At the end of the day there was still some energy for a smile from the people who had worked so hard and the day and earlier to make it a success.
Thank you.
Two questions have been frequently asked about Leschenault Lady now she is back in steam and here are the answers.
Firstly - will people be able to have a ride?
The answer is not yet as it is necessary for us to be accredited to do so under national laws governing rail operations and our current focus is on being able to safely operate steam locomotives while training people in all aspects that this entails. But one day we hope to be able to take that next step.
---
WA Rail 150 celebrations
Our WA Rail 150 celebrations over the weekend of 21 and 22 August were the most significant of the year's activities. As WA's first steam locomotive Ballaarat ran on the purpose-built Lockeville to Yokonup railway it was fitting that the weekend's events were based in the South-West.
On Friday 20 August the City of Busselton had a 150th birthday celebration for 'Ballaarat' including the opening of a new exhibition about the locomotive's story.
Members of Rail Heritage WA assisted in various ways towards the new exhibition and were in attendance on the evening. It isn't often you get to sign a 150th birthday card!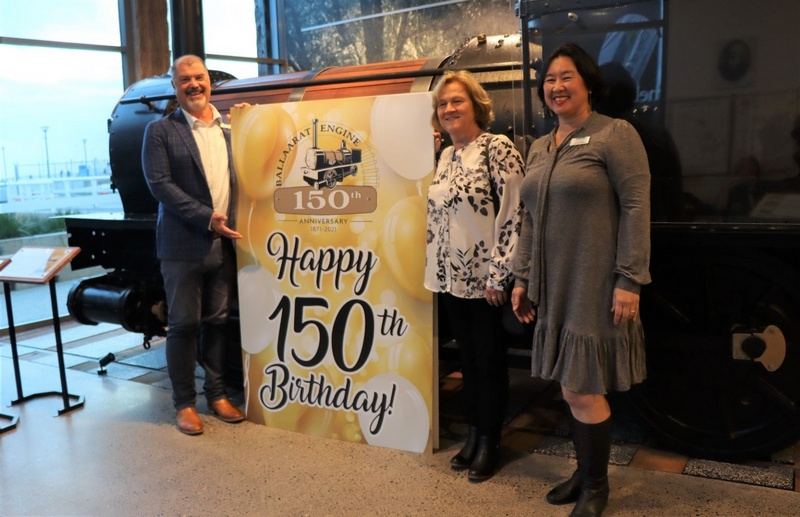 L to R: Mayor, City of Busselton Grant Henley with Philippa Rogers, President Rail Heritage WA and Jacquie Happ, Cultural Development Officer. (Photo: City of Busselton)
Saturday 21 August focussed on WA's first railway with a ceremony at the National Trust's Wonnerup House. The original railway ran through the corner of this property and is the location for our monument marking that - the one that was unveiled at the Centenary celebrations in 1971.
After a Welcome to Country by local Wadandi Elder Sandra Hill and her niece Shannon Clohessy we had speeches by RHWA President and Grant Henley, Mayor of the City of Busselton. Mr Henley recalled being a young boy at the Centenary celebrations and spoke about how important Ballaarat is to the people of Busselton.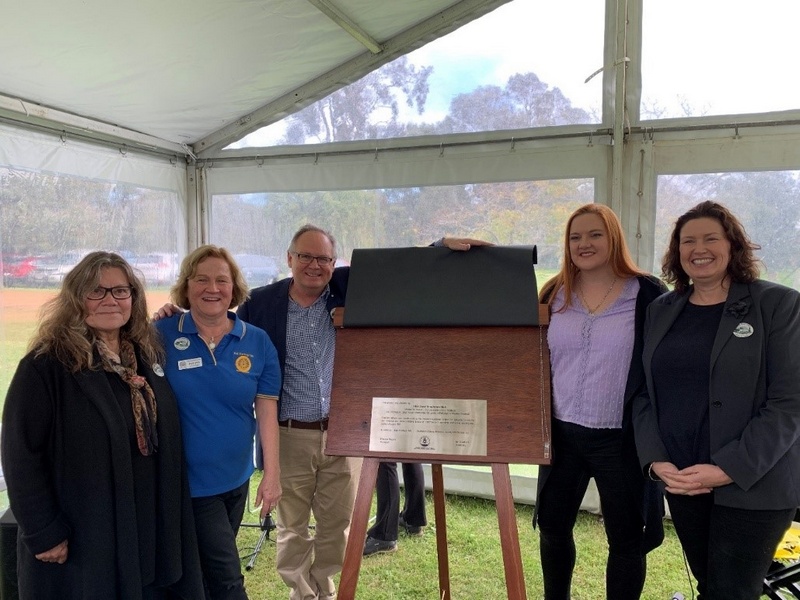 Left to right: Sandra Hill, Philippa Rogers, Hon David Templeman MLA, Hon Jessica Stojkovski MLA and Hon Jackie Jarvis MLC at Wonnerup with 150th Anniversary plaque. (T Stanley)
The Hon David Templeman MLA Minister for Tourism, Heritage and Culture and the Arts, unveiled a new plaque to mark 150 years of railways in WA. We thank all who attended and acknowledge the support of the South West Development Commission and the City of Busselton in enabling us to hold this event and to the National Trust of Australia (WA) for their provision of the venue.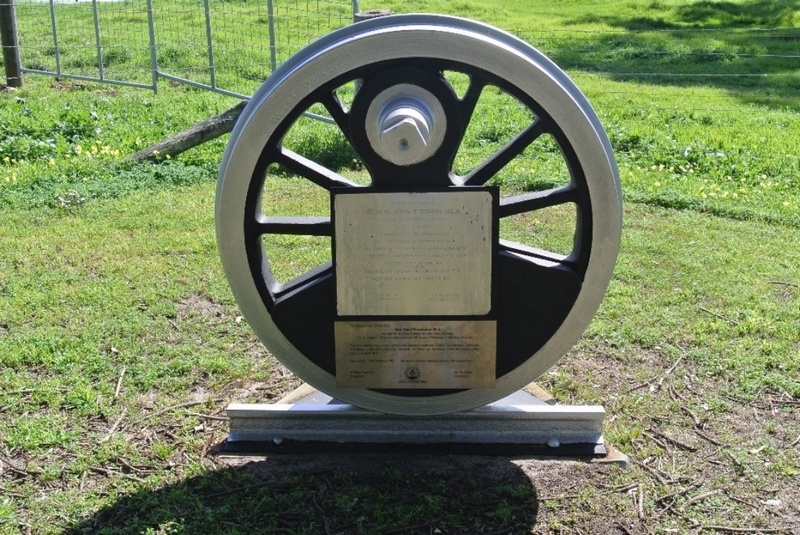 Minister Templeman's Media Statement can be found here.
---
Mini Model Railway Expo - 6 June 2021
What a great day this turned out to be with over 1000 visitors and a great selection of exhibitors. Here are some photos from the day.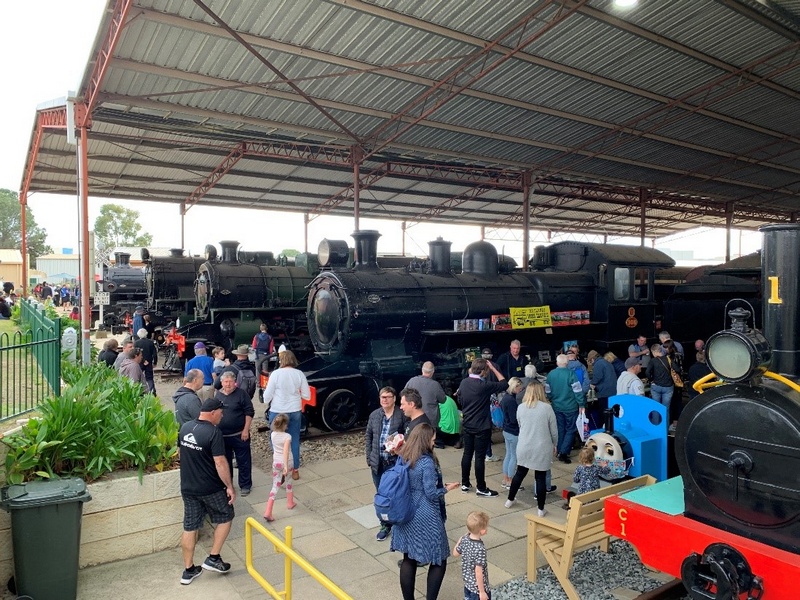 The crowd enjoying their day.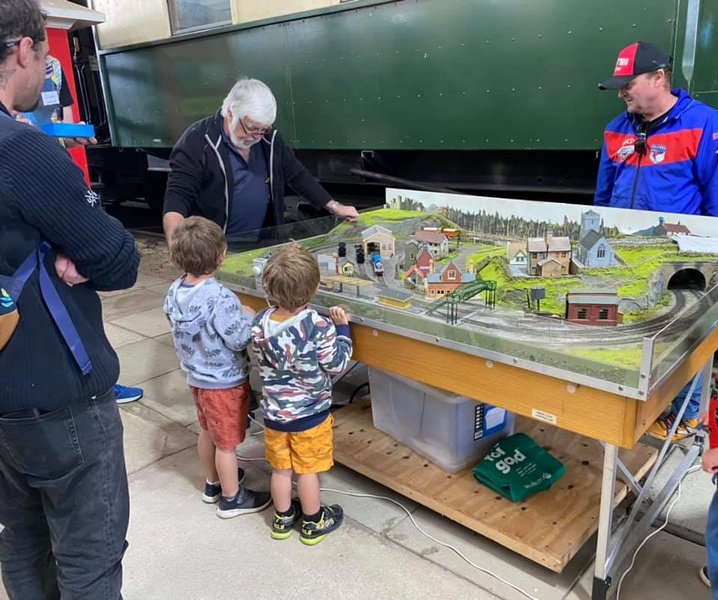 AMRA WA with their 'U' drive layout that was enjoyed by young visitors.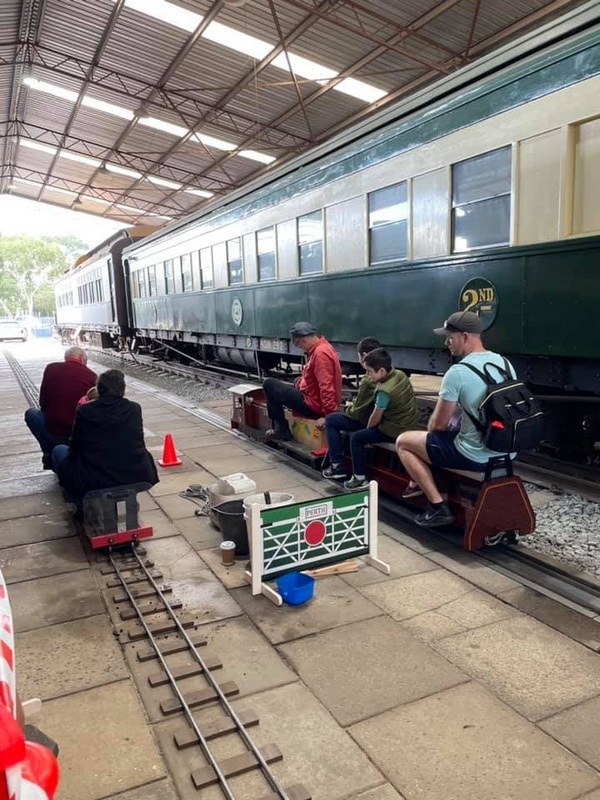 Miniature train rides by Northern Districts Model Engineering Society.
^Back to Top