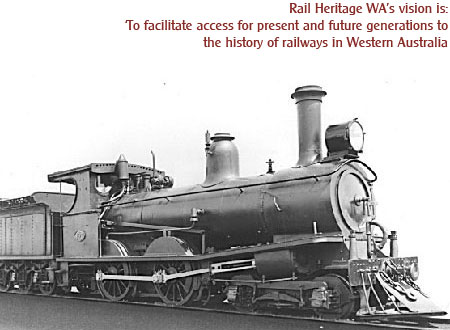 ----------------------------------------
Photo Archive NOTE
Please take note the the Photo Gallery will be OFFLINE for a couple of days for major maintenance.
Starting from Wednesday 3rd September.
We will endevour to have it back up and running as soon as possible.
And expect it to be back up online by the Friday afternoon at the latest (WST), at this stage.
----------------------------------------
Railfest 2014!
It's on again this year, on Sunday the 12th October.
Flyer can be downloaded here!
----------------------------------------
Rail Heritage WA was the first rail preservation group formed in WA.
It began as the Australian Railway Historical Society (WA Div) when it was formed in February 1959.
Today Rail Heritage WA:
operates the Railway Museum in Bassendean
carries out restoration of heritage equipment and vehicles
has an extensive railway archives
publishes and sells publications of railway-related material
hires out its restored Federation Train carriages
lobbies for the preservation of WA's rail heritage, such as the former Midland Workshops
has members with interests in every aspect of railway operations and
owns the Vintage Train at Boyanup Museum as part of its collection
It depends entirely on its volunteers to manage the organisation and its extensive activities.