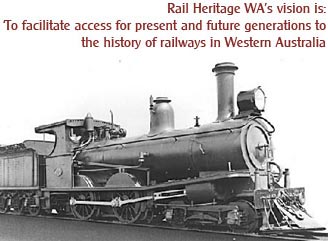 Restoration Work - Midland
After years working in the open air at Bassendean we were pleased to have access to part of the old Midland Workshops in 1995. This gave our volunteers weather protection, solid floor, pits for undercarriage access and a secured, lockable building to keep vandals out.
However despite many promises of a State Rail Heritage Centre being developed, 2006 saw us ordered to cease our activities at Midland. Initially this was to be 'temporary' however this soon turned to an ongoing push for all our remaining railway items to be removed from the site. Many hours of our volunteers' time had then to be diverted to obtaining the inspections, paperwork, permits and insurance before items were allowed to be moved on rail to Bassendean or other storage.
Restoration work by our volunteers while at Midland included:
Restoration of the Heritage Train and carriages from the 'Australind' and other named trains of yesteryear. Rail Heritage WA used to run trips using these carriages. These included special events such as the Midland Centennial Trains in 1995, The Arts Train, Great Southern Railway Centenary, Wheatbelt Wanderer and 'Dinner in the Diner' trips. It is a pity that Western Australians, and their visitors, are currently unable to travel by narrow gauge train in the ambience of yesteryear but unfortunately today's regulatory and insurance regimes preclude this.
Restoration of representative WA freight wagons
Locomotive overhauls have in the past included 'Leschenault Lady', now housed at the South West Rail & Heritage Centre, whilst cosmetic overhauls have included the 1885 built steam loco H18 and on the 1880 built 'Katie'. Work also began on diesel XA 1405 Warienga and our volunteers have continued this work at Bassendean, despite now being in the open, culminating in the engine being run at Railfest 2015.
'Federation Train' - In addition to five already restored standard gauge carriages (including three original wooden Trans Australian carriages), other ex-Trans Australian carriages are either being restored or are awaiting restoration. These carriages, together with historic diesel GM1, represent the railway link between WA and the rest of Australia opened in 1917.