Please help Rail Heritage WA restore GM 1
Why GM 1? Built in 1951, GM 1 was the first mainline diesel locomotive in Western Australia and the first standard gauge, hence first interstate diesel locomotive in Australia.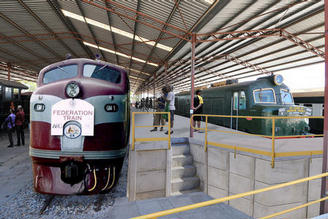 We would like to see a restored GM 1 in operation and when it is in the Museum to be at the head of our restored ex Trans Australian Railway carriages in a 'Change of Gauge' display. This will recreate the drama of Kalgoorlie when, until 1970, it was 'all change' as passengers and goods moved between the narrow gauge and standard gauge trains across the platform.
A brief history of GM 1 can be viewed here as a PDF file.
GM 1 Restoration Appeal
During its five decades of almost continuous service, GM 1 could be found heading the Trans-Australian passenger train and later, after the standard gauge railway was extended from Kalgoorlie to East Perth, it hauled the Indian-Pacific into East Perth on its regular 4,000 km journey between Sydney and Perth.
It was gifted to Rail Heritage WA and now that GM 1 is home in WA, can you please help us to restore it?
So far, we have:
Replaced its wheels so they meet appropriate standards
Built dual gauge tracks at the Museum so GM 1 can be there (thanks to Lotterywest) and now
Brought GM 1 to Bassendean.
Next task - restore it cosmetically and return it to operating condition. This will be followed by the creation of a display that celebrates its story and that of the Trans-Australian Railway.
You can donate in four ways:
Donation via Paypal, please use the button below, or
Direct debit to Australian Railway Historical Society (WA Div) Inc BSB 633 000 Acc 185298890 - send your details to admin@railheritagewa.org.au so we can send a receipt, or
Come into the Railway Museum and donate there, or
Write to us at PO Box 363, Bassendean, WA, 6934 and include your donation.
Donate any amount via PayPal button below;